What is in Flooring
What is in flooring is an array of choices that includes a wide selection of hardwoods, heated floors, tile, linoleum, carpet, laminate, cork, engineered wood, vinyl, and others.
Generally speaking, the rooms or areas of the home or building that you have flooring in, will determine the types of flooring that work best.
For instance surfaces that resist or repel water are best for rooms that have running water such as the kitchen, and the bathrooms.
The other consideration for the best type of flooring to use is cost. There is a variance, and sometimes a wide variance in price from one type of flooring to another.
Some styles of flooring are not too difficult to install, and can be handled by a do it yourselfer, whereas other styles may require an expert installer or contractor to do the job.
Good quality flooring installed properly can greatly enhance the look and feel of the interior, and even in some areas, the exterior of the home.
In addition, the right flooring can increase the value of a home, and shorten the time needed to sell the home once put on the market.
I will describe the different types of hardwood flooring available to you. I will also let you know why some types and styles are considered preferable to others.
I will also make a recommendation for you where to shop for flooring online, and how you can compare and contrast the look and cost right from your computer or mobile device of the various kinds of flooring.
In addition I will let you know where you can buy online, and pick up at a physical store, or buy online and have it delivered to you or to your contractor.
Hardwood Flooring
In the last 18-20 years or so, hardwoods have risen in popularity for use in flooring to an impressive extent. The appeal, and demand for hardwood floors is at an all time high, and showing no signs of slowing down.
Within the hardwood flooring sector, there are many different types, and styles to choose from.
Hardwood flooring is a significant investment, and it is important to know the advantages, and disadvantages, as well as the appearance of each species.
Solid hardwood flooring is one solid piece of wood that normally ranges from 1/2″ thick to 3/4″ thick.  Hardwood boards can range between 2 1/4″ wide to as much as 13″ wide.  Solid hardwood must be nailed or stapled down to a wood sub floor.
It is not recommended to glue solid hardwood flooring directly to a concrete floor, in almost every case. Thus, homes without basements because they have concrete slabs would typically not be able to have solid hardwood floors.
Solid hardwood floors afford you the benefit of being able to sand and refinish them if they become scratched or gouged, or if you would like to change the stain color.
Depending on the thickness of the hardwood, this is possible anywhere from 2 to 5 different times.
Oak  Oak is quite possibly the most common of woods used for hardwood floors.  Oak is also one of the least expensive types of woods used, and is softer than many other woods.
The specific oak grain provides an advantage in that it will camouflage scratches and damage well caused by pets, furniture, and continual every day use.
Oak also absorbs stains well. This makes the process of refinishing the floor relatively easy.  Oak is considered a classic, traditional wood.
Maple  Maple is more expensive, and is a harder wood than oak. Maple also has a lighter color than oak.  There are different grades of maple, which, as a result creates differences in it's prices.
Maple has a smooth, slick look due to it's having less grain.  You will see maple used in many gymnasium floors, for instance.  Maple is considered a modern wood.
Maple may turn a bit yellow in color when it is exposed to extended periods of light.  It does not absorb stain well.  Maple with stain may develop spots and blemishes. Darker stains may even turn gray.
Hickory  Hickory looks much like oak in it's graining and coloring.  Hickory, however, is a much tougher wood, and, as a result, it is also more expensive than oak.
It's graining and hardness allows it to hide dents and scratches very well, which makes it a popular favorite wood among pet owners.
Bamboo  This exotic looking wood has grown in popularity recently, and is now in high demand.  Technically a grass, bamboo grows to a tall, hard, round plant or tree.
It is less expensive than most hardwoods, and is also considered eco friendly.  Depending on the type and quality of the bamboo, prices can vary.
Avoid the very low priced bamboo as it is surely of low quality, and will be prone to dent without much effort.  A distinct advantage of a quality bamboo hardwood floor is that it can be glued to concrete floors, making installation less expensive, easier, and faster.
A disadvantage of bamboo floors is that it tends to reveal scratches, and dents more easily than other hardwood floors.  It is also not as resilient to water, and pet stains.  It is also not an easy wood to refinish or sand.
Brazilian Cherry  This deep grained, attractive wood sports a deep reddish color.  Like hickory, Brazilian cherry comes in a variety of colors.  It is a strong wood that doesn't easily dent.
Brazilian Walnut  Like the Brazilian cherry, this wood has a deep rich attractive grain, and a smooth finish. It's colors are a brownish tone. It is the hardest and strongest of all the hardwoods.
Brazilian walnut is a more expensive choice than Brazilian cherry. It is often used in decks that call for a top quality, durable, attractive wood floor.
Pine  Pine is considered a softer wood, but depending on the species, the hardness varies.  Soft pine is a lighter, blondish color, and may dent and scratch somewhat easily.
Hard pine is darker in color, and provides good protection against scratches and dents. It's hardness rivals that of red oak. It is know for it's different patterns, and knots which give it a rustic appearance.
Birch  Birch wood is similar to maple as far as color, and graining. It is somewhat softer, however, and less expensive than both oak and maple.
Like maple it absorbs brown stain well. Birch is often used as a filler wood in some engineered hardwood, and in plywood. Sweet birch is the hardest of the birch species.
Ash  Ash hardwood has a pale color.  It is good at absorbing and holding stains. Ash wood's ideal and consistent hardness makes it an ideal wood for making skis, hockey sticks, and garden implement handles. Ash has a high quality shock resistance.
American Cherry   Like Brazilian cherry, this wood has a very attractive, deep red color that even increases with age. It is also an expensive hard wood.
A big difference though is this wood is quite a bit softer than the Brazilian cherry, and as a result, can dent, and scratch more easily.  American cherry is difficult to stain, and may turn out discolored.
American Walnut or Black Walnut  Also known as simply walnut, this is an expensive wood. It ranges in color from a pale brown to a dark, rich brown.
Other attractive, popular hardwoods for flooring include: Acacia, Brazilian Koa, Pecan, and Cumaru.
Engineered Hardwoods
Engineered hardwoods, unlike solid hardwoods, are made up of layers of wood. Generally these layers number from 3 to 9.
The top and bottom layers are the real wood, such as oak, hickory, maple or whatever wood is chosen. These top layers can also vary in thickness.
A benefit of engineered hardwoods is that it can be glued directly to concrete sub floors, unlike solid hardwoods.  This is ideal for homes without basements that only have concrete slabs.
Another way to install engineered hardwoods on a concrete sub floor is to place a pad on the sub floor, and glue the tongue and groove connection of the hardwoods together to place it on top of the pad. This is called the float installation technique.
If you are on a wood sub floor, engineered hardwoods can be installed with nails or staples through the side of the hardwood down into the wood sub floor.
Engineered hardwoods have greater stability when it comes to humidity, and temperature than do solid hardwoods.
This means that they won't contract, and cause small gaps in the hardwood panels of your floor, which solid hardwoods may sometimes do. This is called cupping.
Normally engineered hardwoods cannot be sanded and refinished.  However, if the top layer is thick enough, it may be possible.
From an appearance standpoint, engineered hardwoods, and solid hardwoods look exactly the same from above once they are installed.
From a cost standpoint, engineered hardwoods are slightly cheaper than solid hardwoods.  It is also less expensive to have engineered hardwoods installed.
Other Flooring Types
Other flooring available to you include Vinyl Plank, Stone Look Tile, Wood Look Tile, Linoleum, Laminate, Heated, and Waterproof.
Recommended Flooring Source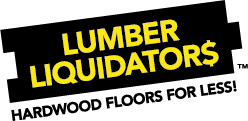 I recommend Lumber Liquidators as the best flooring provider.
Lumber Liquidators has one of the largest inventories of unfinished and prefinished hardwood flooring in the entire industry. There are flooring experts in every store ready to help. In addition, free samples are available.
They have stores in 46 states, and has 420 locations in the United States, and Canada. They continue to add new locations throughout both countries.
Lumber Liquidators has in it's inventory, solid hardwood, engineered hardwood, bamboo flooring, laminate  flooring, vinyl flooring, cork flooring, butcher blocks, stone look tile flooring, wood look tile flooring, moldings, and accessories.
Everything Lumber Liquidators sells is top quality to industry specifications and grades.
You can shop online, and pick up your purchase at the nearest store. Lumber Liquidators purchase directly from mills that practice sustainability, and they eliminate the middleman, and pass the savings on to you.
They offer special financing, a best price guarantee, gift cards, professional installation, and special pricing for flooring contractors.
Click here to visit Lumber Liquidators
Thank you for dropping by and reading, What is in Flooring. Feel free to leave your comments, questions, and suggestions below. I will respond to you asap.
Please also feel free to share on social media via the buttons below.  Good luck with your flooring projects.